BIG

Description

Description
Our hydraulic veneer pack guillotines Mod. BIG allow, with a single operation, the parallel cut of the veneer pack on both sides. The trimming of the veneer pack is carried out thanks to the simultaneous movement of the upper and lower knife: the first one is mounted on the fixed structure and the second one on the rear side of the mobile table. A large pressure beam provides clamping the veneer pack during the cutting operation and is the counter surface of the lower knife.
The machine is fitted with a rear longitudinal shoulder: the distance from the lower knife is equal to the scrap and can be easily adjusted by means of a push-button on the control panel.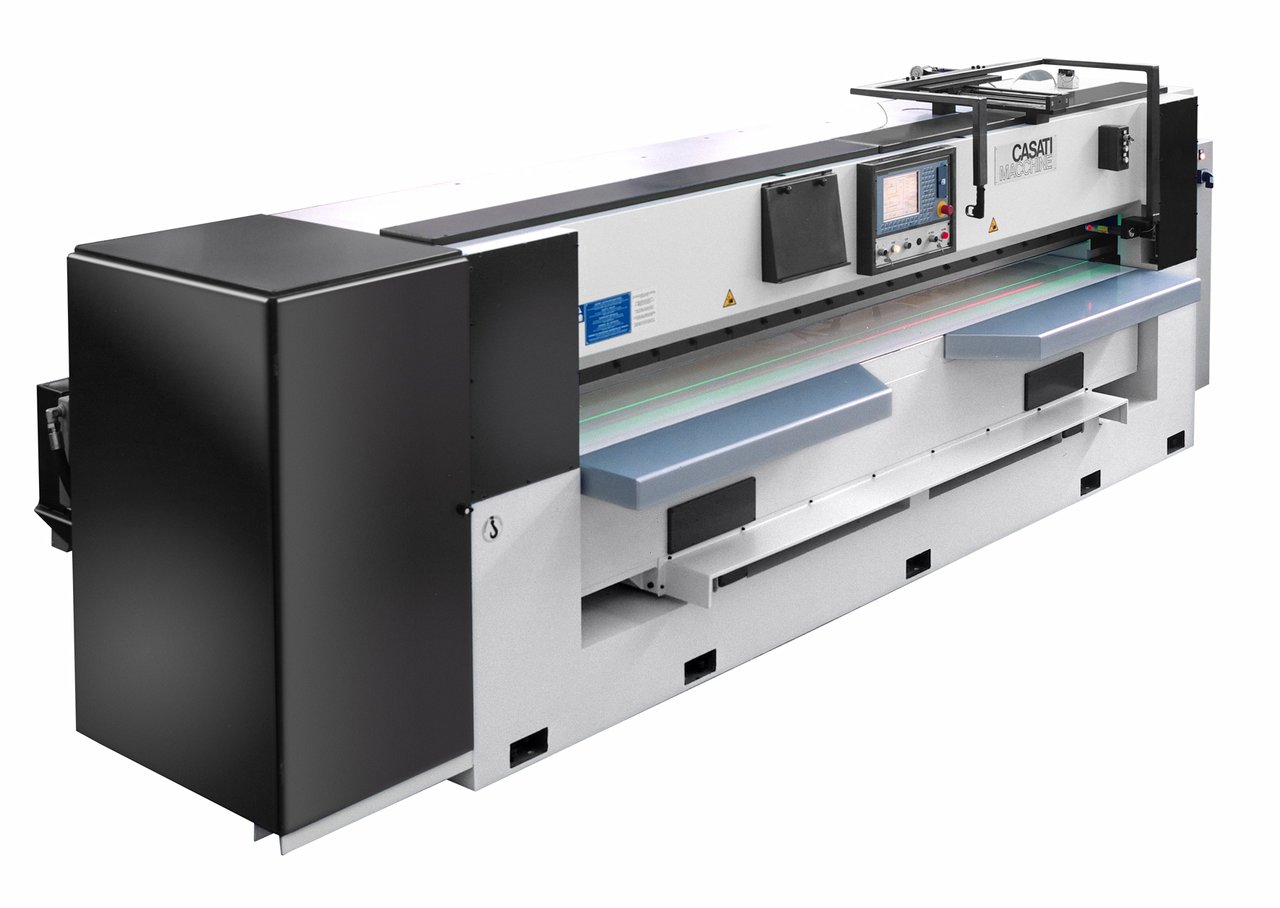 Sturdy and compact structure permitting hardest performances
Plane slideways for high precision movements and no wear for table, pressure-beam and knife-beam
Brushless motor and two ballscrews assure rapid and precise positioning of the table
Electronic control device with TFT colour screen, permitting different operating modes and storing of several working programs.
Tele assistance and USB port for software-backup program updates.
The electronic control program includes the optimization software and the automatic calculation of the cut material.
Hydraulic governors of speed and pressure on the pressure beam and knife beam
Automatic centralized lubrication
Exclusive and low wear working surfaces, rapid fixing system (time required for a full replacement: 5 minutes)
Safety photocells barrier (self checking system), hydraulic and electric safety devices, safety guards
High production capacity thanks to more than 50% time reduction of the working time compared with one-knife guillotines
Simple and easy use assuring high quality result
Perfect parallelism between the two trimmed sides
Perfect straightness of the cuttings, perfect subsequent joining
High quality knives for a longer life of the sharpening and a better quality cutting
Easy and rapid replacement of the working surfaces
Multifunction electronic control arranged to receive customized operative systems
Fault localizer device on all the machine components with signals on the control panel screen
Noiseless functioning

– Adjustable rear shoulder.
– Movable laser device permitting to optimize the cutting and reduce the scrap.
Tecnical features

Tecnical features
Caratteristiche tecniche
Technical data
2600
2800
3200
3600
4200
Lunghezza utile di taglio (come taglierina doppia)
Useful cutting length (as double guillotine shear)
mm
2600
2800
3200
3600
4200
Lunghezza utile di taglio (come taglierina singola)
Useful cutting length (as simple guillotine shear)
mm
3150
3150
3550
3950
4350
Apertura pressore
Pressor stroke
mm
100
100
100
100
100
Larghezza pressore
Pressor width
mm
550
550
550
550
550
Minima larghezza tagliabile
Min. width to be cut
mm
18
18
18
18
18
Massima larghezza tagliabile
Max. width to be cut
mm
530
530
530
530
530
Campo di regolazione sfrido
Scrap adjustment field
mm
0÷50
0÷50
0÷50
0÷50
0÷50
Potenza totale installata
Total power installed
kW (hp)
13,9 (18,6)
13,9 (18,6)
13,9 (18,6)
13,9 (18,6)
17,5 (23,5)
Consumo di aria per ciclo
Air consumption per cycle
NL
2
2
2
2
2
Pressione d'esercizio
Operating pressure
bar
6÷7
6÷7
6÷7
6÷7
6÷7
Rumorosità
Noise measurement
dB
75,5
75,5
75,5
76,5
76,5
Peso
Weight
kg
9000
10000
12500
14000
16000
Dati e caratteristiche non sono impegnativi e possono essere soggetti a modifiche per migliorie.
Data and features are not binding and may be modified and improved.