TWINSET

Description

Description
The machine allows, with a single operation, the parallel cut of the veneer pack on both sides. The trimming of the veneer pack is carried out thanks to the simultaneous movement of the upper and lower knife: the first one is mounted on the fixed structure and the second one on the rear side of the mobile table.
The knife K1 moves down from above, while the knife K2 one moves opposite.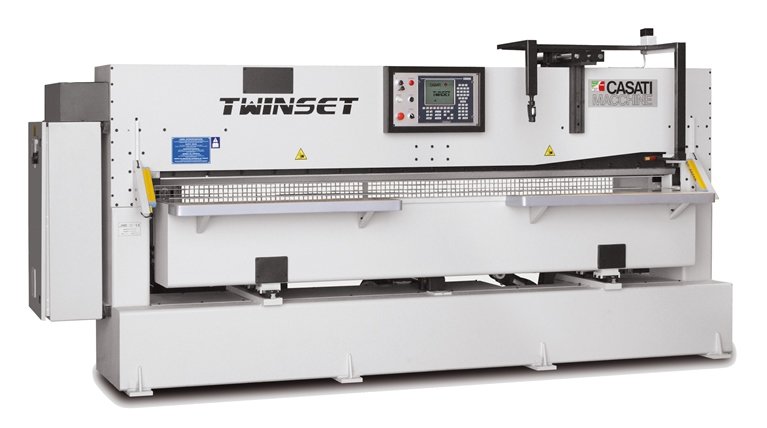 Sturdy steel made structure
Ballscrews driving the moving part
Brushless motor and two ballscrews assure rapid and precise positioning of the table
The upper and lower knife beams slide on lateral and central guides.
Torsion bar on the pressor
Cutting display light
Hydraulic governors of speed and pressure on the pressure beam and knife beam
Electronic control device with TFT colour screen, permitting different operating modes and storing of several working programs.
Special low wear material working tables.
Safety photocells (self checking system)
Hydraulic and electric safety device on the front knife-beam and on the pressor.
High production capacity thanks to more than 50% time reduction of the working time compared with one-knife guillotines.
Perfect parallelism between the two trimmed sides.
Absolute guarantee to obtain a perfect parallelism even with not particularly skilled labour.
High quality finish thanks to the sloping and gentle cut.
The electronic control program includes the optimization software and the automatic calculation of the cut material
High automation
High quality knives for a longer life of the sharpening and a better quality cutting

– Adjustable rear shoulder.
Movable laser device permitting to optimize the cutting and reduce the scrap.