FILA

Description

Description
model FILA ** (manual feed)
Cutting and trimming machine for veneer packs, sturdy electro-welded structure, high rigidity under bending and torsion stress, reduced overall wide dimensions thanks to location inside the lower frame of the motors of the mobile units, safety controls.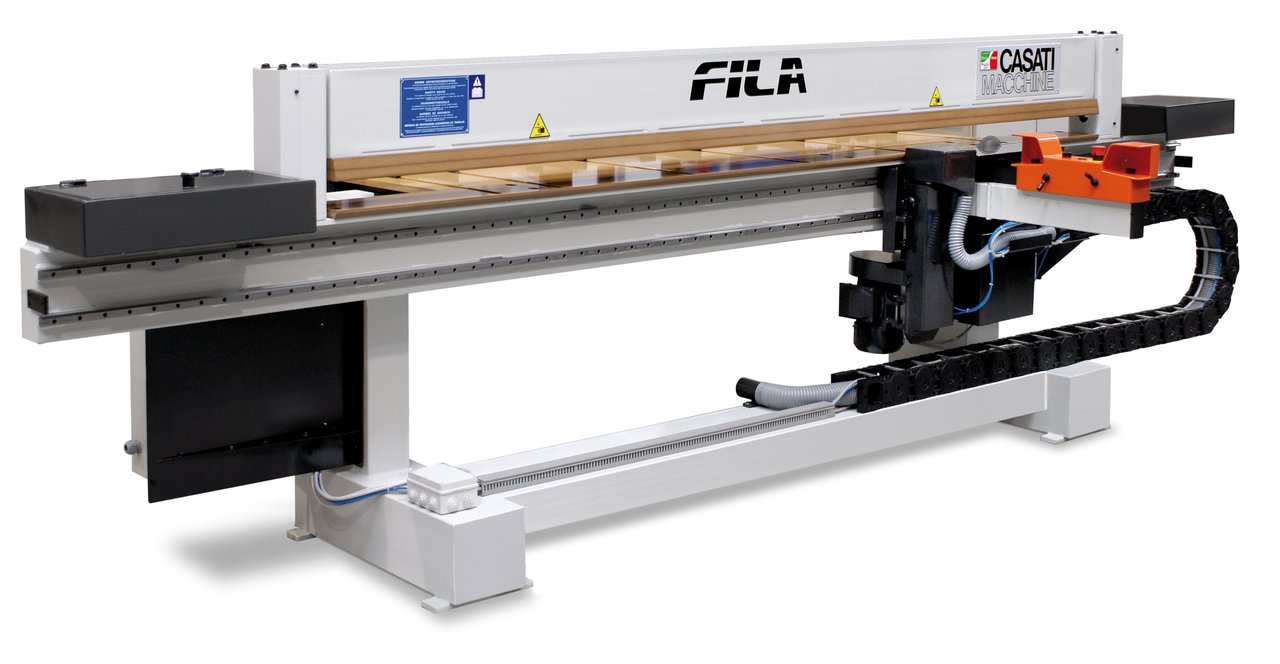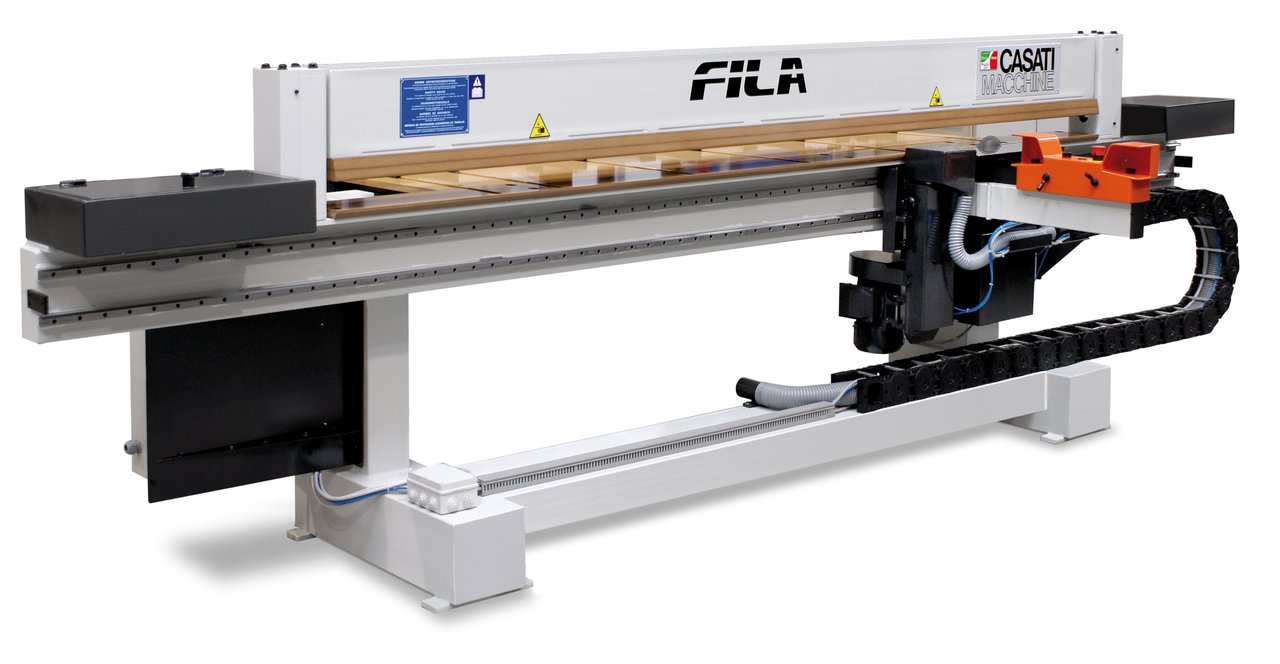 Saw group (kW 2,2) pneumatically raisable and lowerable
Two precision linear guides with recirculating balls for the carriage of the saw unit
Mechanical axial adjustment of the blade, adjustment range from 0 to 2 mm without discontinuity
Cable chain for compressed air pipes, electrical cables and suction
Presser opening 65 mm
Motorized feed of the saw unit with feed speed adjustment from 0 to 20 m / minute by means of a potentiometer (on machines mod. FILA ** – A)
Two lateral pneumatic cylinders for the ascent and descent of the presser complete with torsion bar
The machine complies with CE standards.
STANDARD ACCESSORIES:
Suction duct
HM-Sega Ø 180 mm
Filter-separator lubrication unit with reducing valve and pressure gauge in the compressed air supply point
Service keys
ACCESSORIES ON REQUEST:
1.1 kW finishing milling unit complete with milling cutter with HM inserts
Rear table with movable register on double precision ball-bearing guides and pneumatic locking
Electronic display of distance between register and cutting line
Front table for machine only with saw unit
Front table for machine with saw unit and cutter unit
Laser cutting light
Tecnical features

Tecnical features
Dati tecnici
Technical data
Fila 31
Fila 31-A
Fila 37
Fila 37-A
Fila 43
Fila 43-A
Lunghezza utile di taglio
Useful cutting length
mm
3100
3100
3700
3700
4300
4300
Apertura pressore
Max. cutting height
mm
65
65
65
65
65
65
Potenza elettrica
Electric power

Motore avanzamento
Feeding motor


kW
--
0,55
--
0,55
--
0,55

Motore sega circolare
Saw motor


kW
2,2
2,2
2,2
2,2
2,2
2,2

Motore fresa di finitura
Cutter motor


kW
1,1
1,1
1,1
1,1
1,1
1,1
Regolazione velocità avanzamento
Feeding speed
adjustment
m/min
--
0 ÷ 20
--
0 ÷ 20
--
0 ÷ 20
Pressione d'esercizio aria compressa
Compressed air
pressure
bar
6 ÷ 8
6 ÷ 8
6 ÷ 8
6 ÷ 8
6 ÷ 8
6 ÷ 8
Consumo aria compressa
Compressed air
consumption
NI/cycle
Zyclus
2
2
2
2
2
2
Peso
Weight
Kg
1100
1200
1450
1550
1750
1850